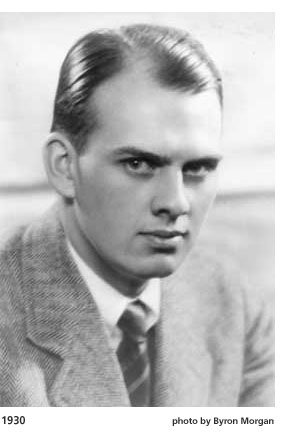 by Ron Netsky

During his six-decade career, John C. Menihan, was one of the most prominent and beloved artists in upstate New York. Although he never sought national or international acclaim, Menihan's work is represented in the collections of the British Museum in London, the Boston Athenaeum, the Library of Congress in Washington, DC, the New York Public Library, The Memorial Art Gallery in Rochester, and other institutions.
Menihan was born in 1908 in Rochester, where his career got off to an early start. In 1924, while in high school, he designed a cover for Five O'clock, a magazine published by Rochester journalist Henry Clune. After attending Phillips Exeter Academy in New Hampshire and graduating from East High School in Rochester in 1926, Menihan entered the Wharton School of Finance at the University of Pennsylvania, where he designed sets, posters, and program covers for the Mask and Wig Club.
In the early 1930's, he began to draw portraits of newsmakers for Town Tidings – The Magazine of Western New York and the Rochester Times Union. Excited by an exhibition of lithographs by Rochester architect Walter Cassabeer, Menihan acquired a lithographic press and stones and, in 1934, made the first of two trips to Zena, near Woodstock, NY, to study with master lithographer Bolton Brown. Brown, now acknowledged to be among the most important American lithographers of the 20th century, was described by Menihan as his mentor.In the late 1930's, Menihan exhibited prints at the Los Angeles Museum of Fine Art, the Albright Art Gallery in Buffalo (now the Albright/Knox), and the 1939 New York World's Fair.
Although he gave up art temporarily to work in his family's business making parachutes during World War II, his activity increased in the mid-1940's. "John C, Menihan, Lithographer" by Norman Kent was published in American Artist magazine in 1945. In 1947, Menihan won an unprecedented four First Prizes – in oil painting, watercolor, printmaking, and drawing – in the Finger Lakes Exhibition at Rochester's Memorial Art Gallery.
In the 1950's, Menihan taught at the University of Rochester, designed a children's store for B. Forman Company, and painted portraits of luminaries such as Frank E. Gannett and , for St. John Fisher College, Bishop James E. Kearney. Among his liturgical projects, he created the "St. Jerome" stained glass window in Nazareth College's Lorette Wilmot Library and a shrine to St. Joseph for St. Louis Catholic Church in Pittsford, NY.
Menihan expanded his media in the 1960's, designing and executing large relief murals for Xerox Research and Engineering Center, R.T. French Company, Security Trust Company (112 feet long), and Rochester Telephone Corporation (a mural now located at Rochester Institute of Technology's National Technical Institute for the Deaf).
In the 1970's, Menihan created a relief sculpture, "Our Lady of the Grapes," for St.Januarius Church in Naples, NY, and a triptych depicting the life of St. Elizabeth Seton for St.Thomas the Apostle Church in Irondequoit, NY, Exhibitions of his work mounted in the 1980's included a retrospective at Nazareth College and "John C, Menihan: Prints from the 30's and 40's" at the Memorial Art Gallery (1988).
John Menihan died at his Rochester home in September 1992. His wife, Margaret Hickey Menihan, whom he married in 1936, passed away in August 1998. They are survived by one daughter, Mary of Ancaster, Ontario, and three sons: John, jr. of Rochester, NY, Tom of Boston, MA, and Peter of Mission Hills, KS.


Ron Netsky


is Chair of the Nazereth College Fine Arts Department
in Rochester, NY