The
Watercolors
of John C. Menihan



by Ron Netsky


Over a sixty year career, John Menihan was without question one of the most prolific and prominent artists in upstate New York. As the region's leading portrait artist, Menihan painted oil, tempera and acrylic portraits of Rochester's most distinguised citizens, including Frank E. Gannett, Bishop James E. Kearney, and Federal Judge Harold Burke. It is almost impossible to visit an area college, university, or hospital without encountering a John Menihan portrait.
Menihan also executed many significant large-scale public works for area businesses, ranging from 110-foot-long abstract relief mural for Security Trust Company to a 64-panel mural depicting herbs and spices for the R.T. French Company. Yet another strong component of Menihan's oeuvre was liturgical work. He produced a variety of two and three-dimensional pieces for Rochester area churches and a major stained glass window for Nazareth College.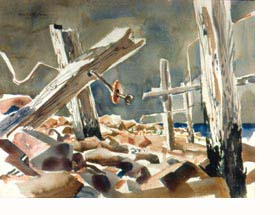 From the late 1930s to the 1960s, Menihan's works, in a variety of media, won prizes in the prestigious Finger Lakes Exhibition at Rochester's art museum, the Memorial Art Gallery. In 1947 Menihan stunned the art community by winning four first prizes in the Finger Lakes show.
So active was Menihan in so many different spheres of art that he was seldom without a major commission. He did, however, find time to experiment with a variety of materials in the areas of painting, sculpture and printmaking. But throughout his career, no matter what long-term projects occupied his time or what media were the basis of his experiments, Menihan always returned to the medium with which he felt perfectly at ease: watercolor.
So energetic and open to exploration was Menihan that even within the medium of watercolor his work covered a large territory with regard to both subject matter and style. When painting urban scenes, for instance, he would often employ a combination of free strokes of color and expressive line. In his watercolor portraits, Menihan was capable of an almost photograhic clarity.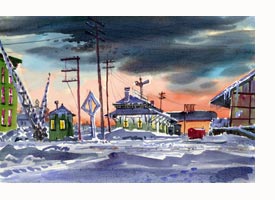 There is, however, a particular style and a particular area of subject matter that can be seen as recurring and dominant strains in Menihan's watercolor paintings.
The style is one in which free brushstrokes reign and color is applied with palpable sense of abandon. Ironically, to paint works with the sense of freedom that comes through in these watercolors, an artist actually must be in absolute control of his technique to the point where every mark made is intuitive and the very act of defining forms with the brush becomes second nature.
Works by Menihan in this unencumbered style often deal with the subject matter that he handled most beautifully in all media - the everyday world of seemingly mundane scenes and situations.
One way in which Menihan injected freshness and immedicacy into his work was to paint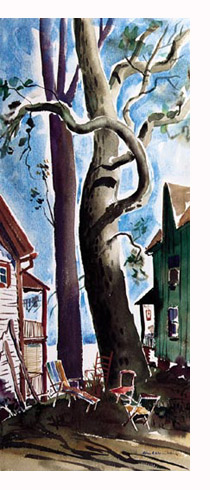 on the spot, directly in front of his subject. His preception of a scene- whether it encompassed teetering barns, creaking houses, city streets or open countryside- was in this way transmitted directly to the paper without the mediation of sketches, photographs or other preliminary devices.
Whether they were celebrations of color or studies in subtlety, every scene taken in by Menihan's eye was filtered through his mind to the hand that held the brush. In split seconds came a stream of checks and balances from eye to brain, and then a mark, expansive or tiny, a tip of the brush lightly tinged with water for a rich stroke or more heavily loaded with water for a wash.
Watercolor, as anyone who has painted with it knows, allows no second-guessing. It's an unforgiving medium that must be applied the right way the first time. It is precisely this enforced spontaneity and the knowledge that a painting could become overworked and be easily ruined if the artist becomes too self-conscious and literal that makes the finest watercolors wonderful to behold.
As a result of this process, Menihan's painted images delicately, yet perfectly balance the visual information needed to represent the subject with the loose, energetic strokes of paint that began to take on meanings of their own in the late 19th and early 20th centuries.
In Impressionist painting and subsequently in various forms of expressionist painting - from Van Gogh's heightened color and exaggerated shapes to Hans Hoffman's works composed simply of color, stroke and form, devoid of representational content - artists have gratly extended the sensual reaches of color and form, allowing these elements to function outside of specific contexts.
This newfound freedom was exploited most prominently in watercolor by John Marin, who in the first half of the 20th century infused his urban and rural landscapes with a dynamic energy. With just a few dramatic stokes, Marin could suggest a vivid urban landscape set against a dramatic sky.
Menihan's finest work contains an element of shorthand form similar to Marin's, sending concise visual signals that, although painted with abandon, are easily decoded by the viewer. The images become, in this way, somewhat dreamlike: fleeting impressions of scenes that connect with the deepest parts of us in a manner that precisely defined work never could.
When this style is undertaken by an artist, who does not have the skills necessary to paint with abandon, the results are stilted and contrived. In Menihan's watercolors there is a sense of the opposite: freedom, fluidity and fun.
A perfect marriage between subject and style can often be found in these works. A stroke left abruptly cutoff becomes an appropriate sign for the disheveled side of a building. A heavy wash of blue/purple/gray stands convincingly for rain clouds. Although there is enough visual information to translate into representational context in Menihan's watercolors, there is also present, in no small measure, the artist's autographic stroke, which incorporates the concerns of 20th century modernism and the purity of painting in an abstract sense.
Although their presence is usually implied, figures are often not included in Menihan's composition. A few swift but sure strokes in the right place can connote more body language than exists in many artists' more labored efforts.
As in the often improvised Irish music that Menhian loved to listen to, the watercolors come together in a spontaneous manner, each stroke a reaction to those that came before it. The results are harmonious compositions that capture the scene depicted in a manner striking enough to transport viewers, affording them a sense of the celebration of life that is at the core of John Menihan's watercolors.

Ron Netsky is Chairman of the Art Department
at Nazereth College in Rochester, NY